Discover more from LeoNagano
Honest writings about life, tech, business...also burnout, meaningless life, etc
The "priceless" product
Product decision made pricing a complicated matter
Hi everyone. This week, a difficult topic when launching a company. Pricing model.
My takeaways
Don't charge too little. Companies won't trust you

Users go for higher prices. End users "Well, I paid for the best, boss. Imagine the cheaper ones"
Find out the sweet spot. The price you can charge without needing approval from different areas
People have no time. Make the sales process easier. Give the cost straight away

Create a product with the killer feature and launch. Easier to put price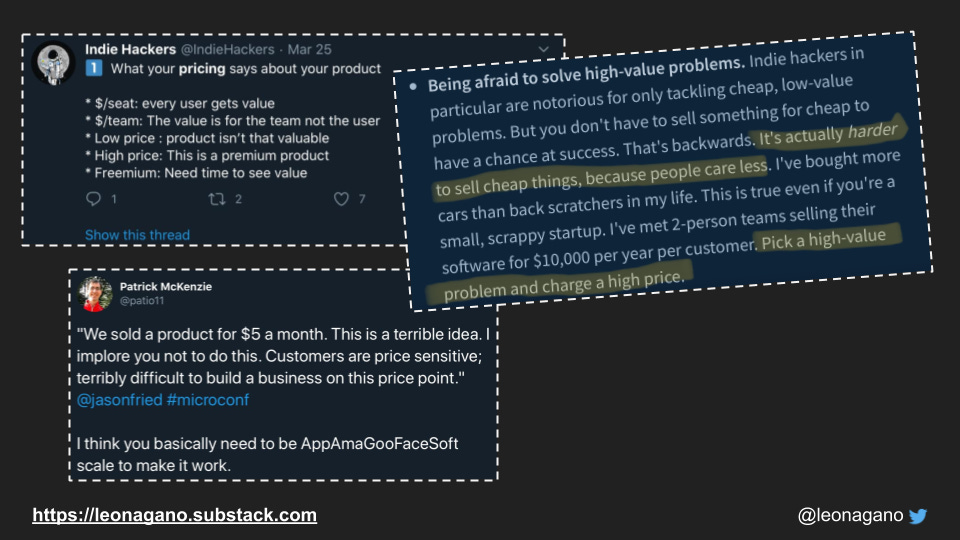 Pricing Model
At first, we thought of charging per user, as it was normal with B2B. Does it still is? But we wanted to reach as many users as possible to spread the word in the client. So, we rejected this option.
Well, we then decided to create a starter kit of 5 KPIs. Now, how much to charge for it? This is where the problem began. Why?
Amazingly flexible product, work on any industry, can fit anywhere. As we went to meetings, the reality hit. 
Each KPI could be a combination of several databases or webservices. It could take 1 week to set up one single KPI. Talking to data department, end users, IT, authorisation to read from those tables! Different clients, different databases. We needed to navigate in their org chart to create the dashboard. A painful process.
That's why our first was former colleagues working in the company. We received help from different former colleagues.
With experience from the first 2 clients setting up KPIs, we decided to give the next clients a fixed price straight away. We ended up with 4 clients in total, with many projects in those clients.
Well, we don't really know how much it will cost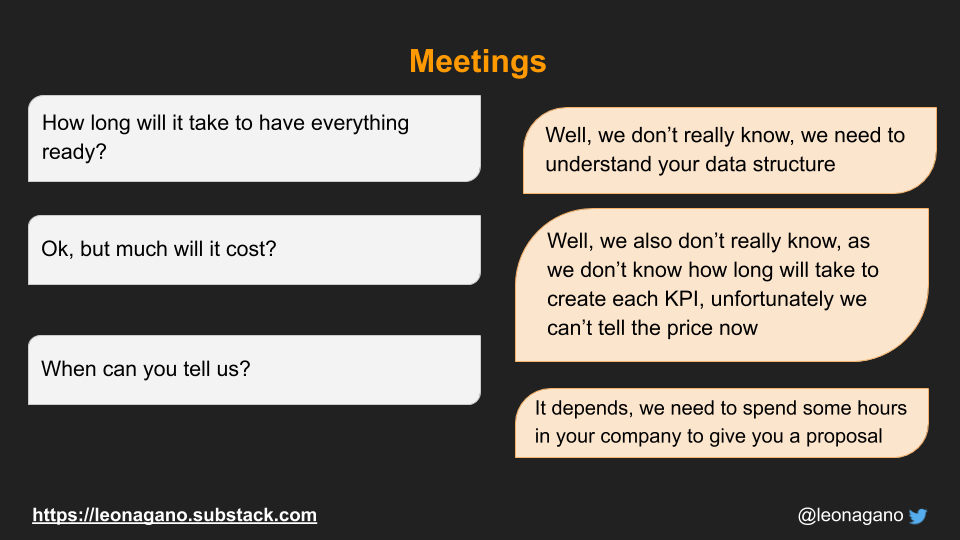 Meetings normally ended up without us mentioning the price. We didn't know how much our costs would be.
---
In a personal note, earlier this week I received amazing news: I've been given the opportunity to run a group called "Social Entrepreneurship" on IndieHackers. Thanks Rosie Sherry and the whole IH community.
Hopefully we will bring the community together to make some big impacts.
I plan to write about my personal experience with charitable work in the next editions.
---
I liked this edition! I want to follow you on Twitter
I'm not a subscriber.