Starbucks
Problems, solutions and first clients
Hello, I'm starting this week asking you for some feedback about these articles. I know, another newsletter asking for feedback, it's annoying. That's the reason I'm asking only 2 simple questions. Feel free to answer this email or tweet me. This will make this newsletter focused on things that really matter to you.
What do you think is the most important section in this newsletter?

If you had to choose 1 thing that I'm not covering in this newsletter, what would be?
Many thanks,
Leo
---
Ok, now moving on to the story.
This week, coffee! Did you know Starbucks started selling coffee beans only? 
Key takeaways from the story
Spot a gap in a growing market

Copy already proven methods to start

Start small
Problem/Solution/First Clients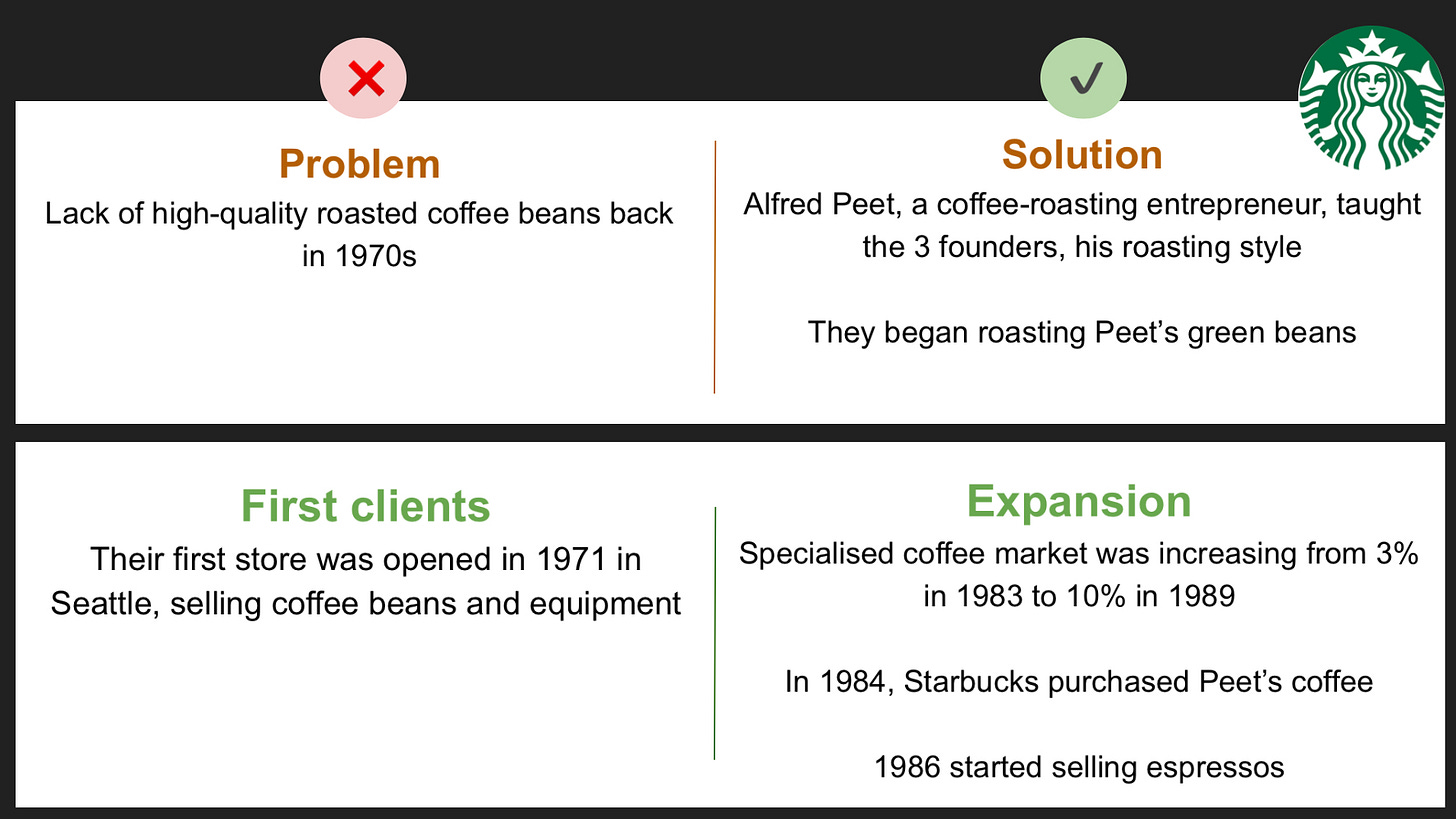 For a detailed timeline, growth and how Howard Schultz introduced the coffeehouse concept go to Starbucks Timeline page
Social Media Actions
I added some links to Starbucks successful campaigns. They mastered the art of communication with customers through social media channels
https://www.referralcandy.com/blog/starbucks-marketing-strategy/
https://www.braineet.com/blog/my-starbucks-idea-case-study/
https://econsultancy.com/eight-awesome-social-campaigns-from-starbucks/
One I highlighted was the TweetaCoffee campaign. Tweet @tweetacoffee to <twitterhandle> and your friend would receive a gift card. Simple yet effective, as we see the results after 1 month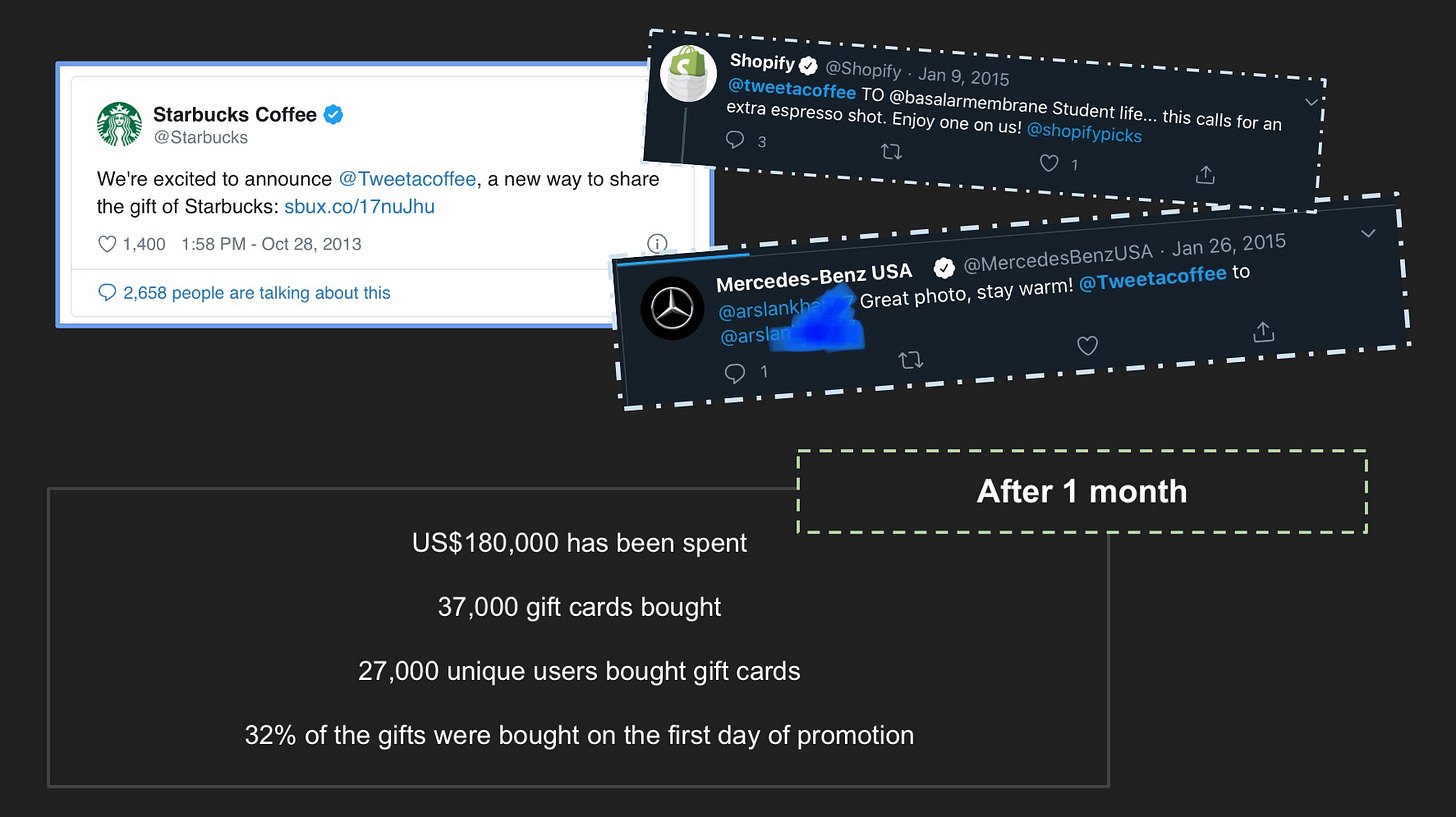 Reading time (

GoodReads links

)
Onward: How Starbucks Fought for Its Life without Losing Its Soul
Pour Your Heart Into It: How Starbucks Built a Company One Cup at a Time
The Starbucks Experience: 5 Principles for Turning Ordinary Into Extraordinary
Not only old stuff, but a bit more recent stories
A clash of culture made Starbucks wait for 47 years to open its first store in Italy Ok, this is quite old, from 2017. But a very interesting article how companies thinking of expanding, need to understand local culture first
Travelling abroad when the pandemic is over? You can compare the coffee price in all 76 countries that Starbucks is presented
Starbucks launched a colour-changing cup last month and now, eBay sellers are trying to make a profit on it, selling for up to 5 times the official price of US$4
---
References
https://en.wikipedia.org/wiki/Starbucks
https://www.starbucks.com/about-us/company-information/starbucks-company-timeline
https://www.finder.com/uk/starbucks-index
https://edition.cnn.com/2020/05/27/business/starbucks-resale-demand-poshmark/index.html
https://www.businessinsider.com/starbucks-color-changing-cup-sales-boom-in-resale-market-2020-5?r=US&IR=T
https://www.qsrmagazine.com/consumer-trends/5-ways-starbucks-innovating-customer-experience
https://econsultancy.com/eight-awesome-social-campaigns-from-starbucks/
https://www.britannica.com/topic/Starbucks
https://coffee.org/pages/history-of-starbucks
https://www.forbes.com/sites/jennawang/2018/09/13/why-it-took-starbucks-47-years-to-open-a-store-in-italy/#aaf6cecfc005
---
Please share this post
Also, retweet the thread and follow me on Twitter