Lego - $228 million losses to world's largest toy maker in 17 years
How customer-centric approach and social media made Lego the largest toy maker in the world
Hi, hope you are all safe and slowly returning back to the "new normal" (at least for some).
Slightly different take this week, as I focused more on Lego's transition from old-world to the digital-era. Also, highlighted Lego pivoting during crisis
Key takeaways here
Create products for your customers

Be open to new opportunities during crisis

Grow with user-generated content

"The right product" might take time, in Lego's case, 33 years
Introduction
1916 - Ole Kirk Christiansen bought a woodworking shop in Billund, Denmark, selling houses and furniture
1930 - The Great Depression - focus moved to small projects, miniatures of furniture and houses - Pivot
1949 - received samples of interlocking plastic from an UK toy maker, adapted and improved. Lego was created
Broken
2003 - Almost bankrupted with losses of $228 million
Transition to Digital
1. Social media
2014, Greenpeace fought against Lego/Shell partnership. Shell had plans to drill oil in the Arctic. Greenpeace went full on social media.
Lego's real-time monitoring alerted the problem and they quickly tweeted direct to consumers
At the end, they turned a negative image into a positive one
Viral News
Quickly producing content related to viral news, like Oscar's 2014 famous selfie and Elon Musk CyberTruck launch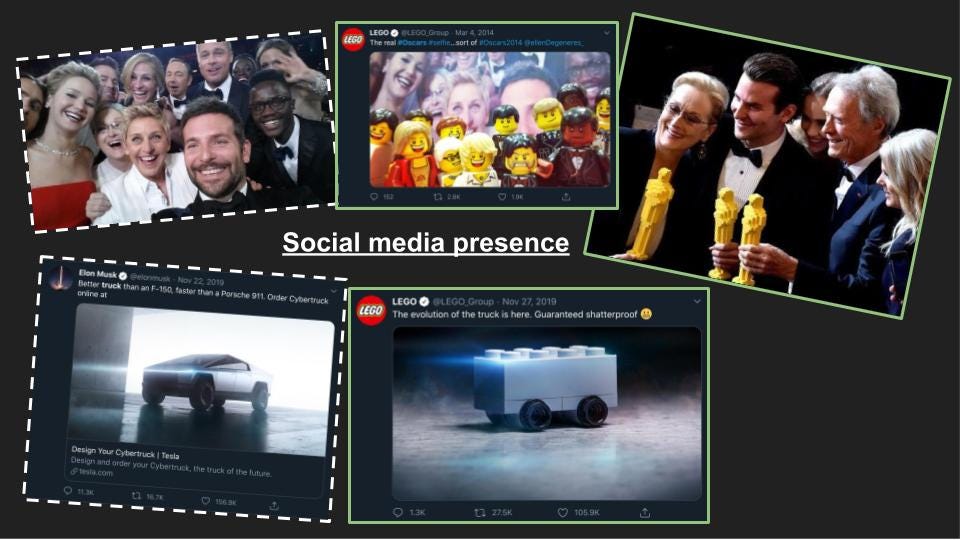 2. Community-first products
Lego Movie - Fans created minifigure of themselves and later, put in official trailer

Lego Ideas - build your own Lego set, share your idea. If it gets 10,000 votes, Lego will review it and may get to the stores
…if we'd had more focus on the consumer, and had listened to them, we would have seen the warning signs earlier than we did…[Lego's VP of Marketing and consumer]
---
This where I read for hours to bring you the best of Lego's digital transformation
---
If you like this post, please share it
Also, follow me on Twitter where I share some timeless bite-sized insights